Staff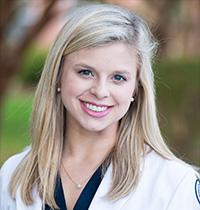 Madeline Richmond, PA-C
Madeline Richmond, PA-C
Madeline Richmond, PA-C joined Dr. Sam Moore's practice specializing in treating arthritis and sports injuries, including surgery of the hip, knee, and shoulder in the fall of 2017 after moving home to Arkansas from Alabama.
Madeline is a Little Rock native who graduated from the University of Central Arkansas Honors College with a Bachelor of Science Degree in Biology. She worked as a medical scribe in the Emergency Department of Baptist Hospital, Little Rock for two years. She continued her education at Mississippi College where she earned a Master of Science in Biology, Medical Science in 2014. She went on to earn a Master of Science in Medicine, Physician Assistant Studies in 2016. After graduation, she took a position at the Orthopedic Group in Mobile, Alabama working for two Orthopedic Surgeons as a PA in both inpatient and outpatient settings while assisting in surgery for total joints. She relocated to Little Rock to be closer to her family.
Madeline is currently board certified through the National Commission of Physician Assistants.
Madeline lives in Little Rock. In her free time, she enjoys running, cycling classes, and spending time with her close family and friends. She is a parishioner of Our Lady of the Holy Souls Catholic Church.